Home Diffuser
Young Living's newly designed Home Diffuser combines the multifunctional benefits of a humidifier, air purifier, atomizer, and aromatherapy diffuser into one easy-to-use product. Its ultrasonic technology breaks the mixture of essential oils and water into millions of micro-particles and disperses it into the air, activating the powerful plant constituents found in Young Living's pure essential oils. Its lightweight design allows you to enjoy these benefits in any room of your home and features a convenient, automatic shut-off feature.
*Includes free 5 ml bottles of Peppermint and Citrus Fresh essential oils.
Essential Oil Complete Diffuser
Young Living's Essential Oil Diffuser gives you the benefit of diffusing essential oils throughout your home or office. Diffusing is a simple and effective way to use essential oils. With Young Living's innovative air pump, oils are dispersed in a micro-fine vapor, allowing them to remain suspended in the air for extended periods of time. The diffuser disperses the oils without heating them so they retain their therapeutic benefits. When inhaled, the oils are easily absorbed through the lungs. Depending on the oil used, diffusing can cleanse the air of odor, calm overactive children, and support respiration.*

Item No. 3660 Bronze Well
Item No. 3662 Green Well
Item No. 3661 Silver Well
Item No. 3663 Red Well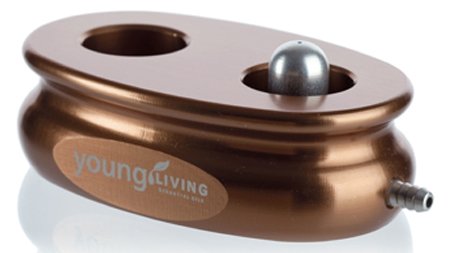 ---
---
Aria Ultrasonic Diffuser



Young Living's Aria™ Ultrasonic Diffuser is a unique, natural way to bring the benefits of essential oils into your home or workplace.

This Aria combines the latest in ultrasonic technology with a variety of useful features. The included remote lets you choose from a selection of soothing, built-in sounds or enjoy the multicolored LED lights. With the built-in speakers, you can plug in your own personal music player and enjoy the music of your choice.

The Aria comes with these free essential oils:
- Citrus Fresh 5ml
- Lavender 5 ml

Retail: $296.05


(Customer Price)



Wholesale: $225.00


(Independent Distributor Price)
TheraPro Premium Diffuser



Enjoy the ultimate therapeutic experience and the most advanced diffuser technology with Young Living's TheraPro™ Premium Diffuser. This atomizing diffuser features durable, high-quality components that will stand up to repeated use in any environment and is the ideal way to experience Young Living essential oils.
*Includes a free 15 ml bottle of Thieves essential oil.

Retail: $197.37


(Customer Price)



Wholesale: $150.00


(Independent Distributor Price)



---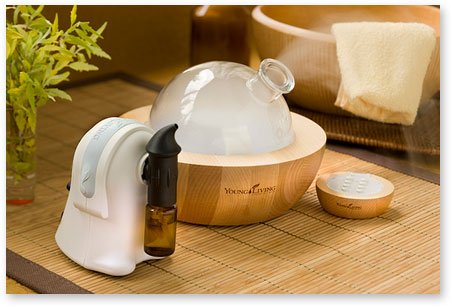 *This statement has not been evaluated by the Food and Drug Administration. This product is not intended to diagnose, treat, cure or prevent disease.

Suggested Use
Open the water reservoir by lifting the clear lid. Add room-temperature water (purified or distilled water is recommended) into the reservoir up to the fill line. Do not exceed the fill line.
Add 8–12 drops of your favorite Young Living essential oil into the water.
Replace the clear lid to cover the water reservoir.
Plug in the Home Diffuser and push the on/off button to start and stop diffusing.
When the water is all used, the diffuser will automatically shut off.

To learn more, view the product information page

Retail: $83.88


(Customer Price)



Wholesale: $63.75


(Independent Distributor Price)



Aroma Diffuser (New)



The Aroma Diffuser utilizes ultrasonic technology to break up the mixture of essential oils and water into extremely fine microparticles and disperses the ingredients in essential oils into the air. It provides an excellent method of calming and moisturizing to build a healthy, natural, and pure living environment.

---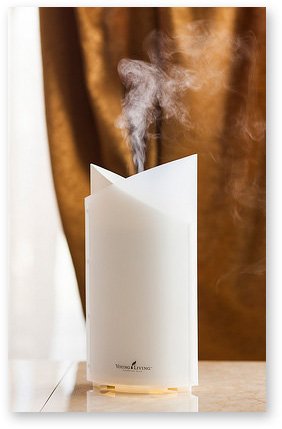 Features include an LED light; an elegant, bamboo-inspired design; and timer settings for 1 or 4 hours of continuous diffusion. The diffused molecules cover up to 30 square meters.

Dimensions: Height - approximately 25.2 cm Width - approximately 12.6 cm Depth - approximately 7.5 cm

*Includes free 5ml essential oil bottles of citrus fresh and peppermint.

Retail: $117.11


(Customer Price)
Wholesale: $89.00


(Independent Distributor Price)