Thieves Essential Oil Blend

*This statement has not been evaluated by the Food and Drug Administration. This product is not intended to diagnose, treat, or prevent any disease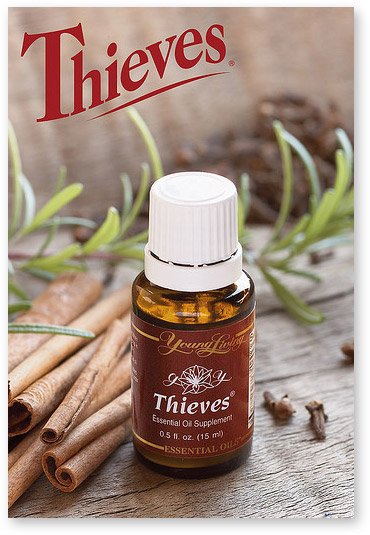 Thieves® was created based on research about four thieves in France who covered themselves with clove, rosemary, and other botanicals.

For clean-smelling air, diffuse our proprietary Thieves essential oil blend for 15-30 minutes in your home or office.

Clove Essential Oil
(Syzygium aromaticum), nature's highest source of eugen
ol, is the highest-scoring single ingredient tested for its antioxidant capacity on the ORAC scale.
Clove has been used traditionally as a spice for thousands of years, and provides a rich and spicy addition to your favorite recipes.
Lemon Essential Oil
(Citrus limon), includes the naturally occurring constituent limonene. Lemon may also be used to enhance the flavor of foods. Lemon oil is also high in d-limonene making it a powerful antioxidant known for its ability to act as a natural solvent and cleanser.
Cinnamon Bark Essential Oil
(Cinnamomum verum), Cinnamon Bark essential oil has been used traditionally for thousands of years as a spice. This oil includes the naturally occurring constituent cinnamaldehyde, and is an important ingredient in many Young Living products
Eucalyptus Essential Oil
(Eucalyptus radiata), is useful for massage after activity, and can be diffused for a stimulating and rejuvenating environment. This oil has a mildly pungent, sweet, and fruity aroma, and includes the naturally occurring constituents 1, 8 cineole and eucalyptol.
Rosemary Essential Oil
(Rosmarinus officialis CT cineol), This oil provides a savory addition to many meats marinades, side dishes, and dressings. Rosemary includes the naturally occurring constituents eucalyptol and alpha-pinene
Thieves Essential Oil blend with Young Living's patented diffusing system creates a safe and simple means of filling your home with therapeutic benefits. Diffusing Thieves adds an extra layer of protection by purifying the air while adding an uplifting scent to your home.

TheroPro Diffuser

AromaLux Diffuser