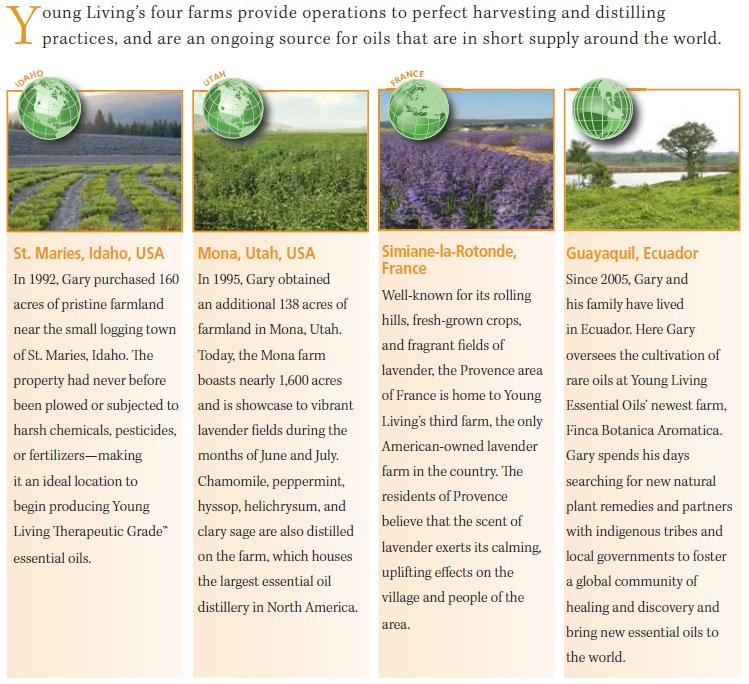 Growing Our Own From the Beginning

The four Young Living farms and distilleries—located in Mona, Utah, US; St. Maries, Idaho, US; Simiane-la-Rotonde, France and Guayaquil, Equador—allow Young Living Essential Oils to maintain its position as the world's leading grower, distiller, and provider of pure, potent essential oils.

On Young Living farms, the cultivation, harvesting, and distillation processes of each batch of essential oils are carefully controlled. Extensive laboratory testing and independent audits are conducted to ensure Young Living's quality exceeds industry standards. Experimentation performed on Young Living farms helps guarantee the consistent quality of Young Living essential oils, and allows for increased research and development opportunities.

It's this hands-on experience of growing, distilling, sourcing, and testing essential oils that led to the development of the Seed to Seal™ process. This method, exclusive to Young Living Essential Oils, ensures that each Young Living essential oil product delivers the quality results customers have come to expect.